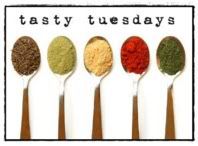 Today I'm starting the Tasty Tuesday link up over at
33 Shades of Green
here is toady's recipe.
Easy Chicken Enchiladas
2 cups shredded cheese
1 can chicken breast
1 can green chilies
2 cans green enchilada sauce
2 small bell peppers (or 1 large)
1 medium onion
8oz sour cream
5 whole mushrooms
corn tortillas (I used 18)
chop onion & peppers as fine as you want and saute till soft
clean & chop mushrooms then add to onion mix once soft
mushroom/onion/peppers once soft
drain and chop chicken - set aside
add chicken & green chilies to pan cook until hot
get out a 9x13 pan (I am using 2 small pans instead) and pour about 1/2 of a can of enchilada sauce into the pan to coat the bottom (here I poured about 1/4 of a can into each pan)
once your meat/veggie mixture is heated put into a mixing bowl
add 1 cup cheese, 1/2 a can of sauce & all of the sour cream and stir til mixed
if your tortillas are soft enough to fold without breaking go ahead and add your mixture about a tablespoon for each, if not heat tortillas in microwave till warm enough to fold
keep rolling tortillas until all mixture is used up, I was able to make 18 with this batch
cook at 350 until cheese is melted (about 15 minutes) and there you go. We don't like them every spicy so we use mild for everything but you can make it hotter or add different veggies so it's easy to make it however you want
.
Pin It